Best Fence Removals & Junk Services in Boynton Beach, FL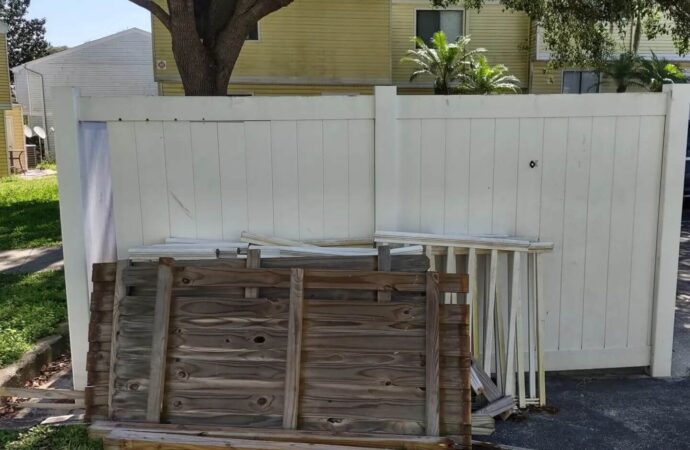 Do you feel dissatisfied about your fence's appearance, or maybe it is so damaged to the point that being able to cause accidents or unwanted situations? You might be tired of cleaning up all the wood and pieces that have fallen off your fence due to how old it is. It is not possible to dispose of wood or other debris properly if you don't have the skills or if you don't know where to take all the junk, as municipal services won't usually pick this type of waste. This can make the job more difficult and time-consuming than you would like. And it only gets more complicated as you continue to take on more. Boynton Beach Junk Removal and Trash Haulers is a top company available to help with fence removals and cleanouts. We'll remove all junk, trash, and items in no time and make sure your entire space with the fence is just another precious area.
We can provide all the help you need to clean your fences. We can help remove wood and other debris. It takes very little time so that you can get on with your next project, and we will make sure everything is disposed of properly or recycled when possible.
You don't want your fence to be a nuisance. If your fence isn't made from wood or is damaged, it can affect the value of your property. We can help you with this. Contacting our team is quick and simple. You can expect a smooth process and a free estimate before we even think about starting.
Fences can be damaged by unpredicted weather conditions in the city or elsewhere in Florida. If this happens, we will be there to help.
No matter the reason why you need our service and a full cleanout, we just want you to know we're here waiting for your call.
Fence Removal Must Be Done Carefully
People believe they can easily remove fences. This is especially true for homeowners. Most fences have a cement foundation, which is something most people don't know, and they don't understand that this means you cannot just take out the wood.
To remove a fence or to put together the pieces correctly, you will need to dig out the concrete foundation. This will make sure that the soil and space are not damaged. Next, think about where and how you will dispose of them. This will add complexity, and you will need proper disposal.
There are many factors that can affect the cost of fencing removal. These factors can make it more difficult to remove, clean up and meet all your needs.
We are happy to provide you with a detailed quote. We have the lowest fence removal costs in the area. Fair prices, all the cleaning that you require, and the assurance that all your items will be moved to the best facilities and centers.
Our fence cleaning services include concrete and pole removal, as well as the disposal of all debris. The fence can be taken down, but the posts can be kept. Rest will be sent to the appropriate recycling or transition center.
Call us now to get a free estimate. We can customize it to meet your needs and preferences. Our team will help you to focus on your goals and remove any obstacles from the space.
Here is a list of our services you can get at Boynton Beach Junk Removal and Trash Haulers:
---
Boynton Beach Junk Removal and Trash Haulers is the top company in Palm Beach that offers the best residential and commercial junk removal services. Here's our additional services:
---