Welcome to Boynton Beach Junk Removal and Trash Haulers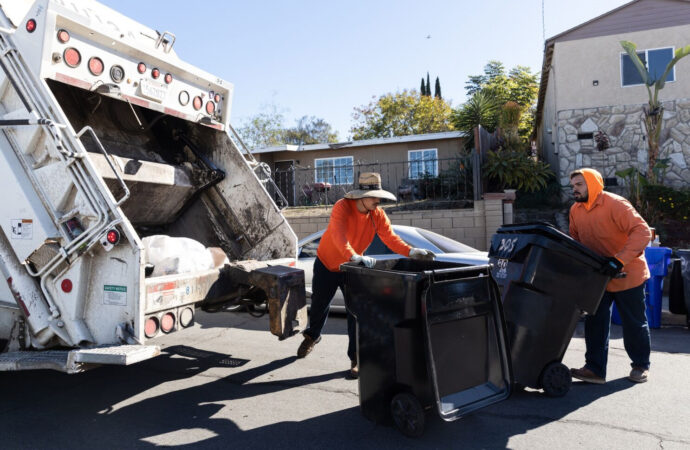 If you're looking for a qualified company to help you with all your junk removal needs and cleanouts, Boynton Beach Junk Removal and Trash Haulers can assist you in handling all the problems you may have with your junk, trash, rubbish, and just anything related to your waste. We will be there to answer all your questions and ensure you have everything you need based on the services you're requesting and how we can help you with everything.
Rest assured, we worry about you, and this includes giving you an estimate that is based on the specific junk removal service you are requesting and the budget you have for this process since we understand nothing is really that simple.
We are your team of experts who can help you dispose of junk from your home, including electronic waste and appliance removal, and even support you with business and commercial junk removal when needed and regardless of the amount of junk you need to remove.
Since 2000, Boynton Beach residents and businesses have had our support. We are proud of the results we have achieved for them and all those in the surrounding areas. We are here to help you and make sure that the final price for the service you need is reasonable and that all your needs are covered without any issues since we know that junk removal can be a hassle for the amount of work involved in lifting items, loading trucks, and just thinking about the entire disposal.
How do you determine if you require our services? There are over 22 options available. You will need to choose a service that suits your needs, or we can always provide some support so you can have our help in this process.
For more information, contact our team. If you would like a guideline or tips on how to select the right service for you, we can help you with some facts and information regarding our service in Boynton Beach and nearby areas:
Think about the kind of junk you have and what project it is so you can give us an idea of the type of junk we need to remove for you. You might need to take out debris or just deal with general junk. We have services that specialize in both, as well as other services for junk removal, and we can also work with you in cleanouts, so there's no need to work around a simple removal.

We can assist you with cleaning out—as mentioned before. What does this all mean? This means that our team can come to your property and clear out all junk. They will also work with you to organize and sort everything and dispose of the junk in transition centers or recycling facilities, leaving everything shining and completely clean.

We are able to help with both recurring and one-time pickups. We will only ask you for the information you need and ensure you get all the help needed around this process.

We want to make sure you don't have to move a finger, which is why we will focus on providing our full support in the heavy lifting, loading the truck, moving the items to the best facilities, working with multiple properties and spaces, and much more.
If you're unsure which service is best for you and don't feel confident about choosing one from our list, call, email, or use our contact page to provide as much information as you can so that we can accommodate your needs again and you can get the estimate that is based on what you're requesting from the team.
Our Services Are Waiting for You in Boynton Beach
All it takes to get the job done is a phone call or an email. Use our contact form to tell us about your service and set up a time with our team to discuss the details and give you the best advice and estimate. We will usually want to visit the property or space where the junk is so we can actually evaluate and assess what is there.
Let our team be there for the whole project. We will also work in the junk removal service and cleanout altogether if needed and focus on giving you the details of what is included in the estimate if you need us to.
There are many services we can offer, so if you have any questions or need to discuss your options, please let us know. Below, you can also find a list of our services so you can look at what we can do for you so far:
Our Prices in Boynton Beach
Our junk removal team will give you an estimate based on your request. You don't need to be concerned about the price of the service. Everything is customized and based on your budget, and we will make sure every detail of the price is included in the invoice.
We will take into consideration all factors and budgets, so you can be sure that we will respect them. These steps will help you get a quote:
You can reach out to us via email or telephone. You can also fill out the contact form and let us know what service you need or what the junk removal needs you to have.

We would be happy to come and give you an estimate. Set up a visit. Please give as many details as you can if you are unable or unable to schedule a trip. 

After you accept the estimate or have booked, our team will get to work and make sure everything is done based on the agreement.

We can accommodate scheduled or same-day bookings. 
Prices can vary depending on the service requested and the amount of junk being removed. An average or estimate cannot be given based on a single request, or at least, this is not how we would rather work with this project. We will try our best to accommodate your requests and estimate the cost, and even give you an average in case you cannot schedule a visit, but this quote won't be as accurate.
We are happy to inform you that we offer free consultations as well as all aspects of the quotation process. If you are not sure if we can hire you, you can contact us at a later date.
Contact Boynton Beach Junk Removal and Trash Haulers for all the information you need about our junk removal services.
Here is a list of our services you can get at Boynton Beach Junk Removal and Trash Haulers:
---
Boynton Beach Junk Removal and Trash Haulers is the top company in Palm Beach that offers the best residential and commercial junk removal services. Here's our additional services:
---